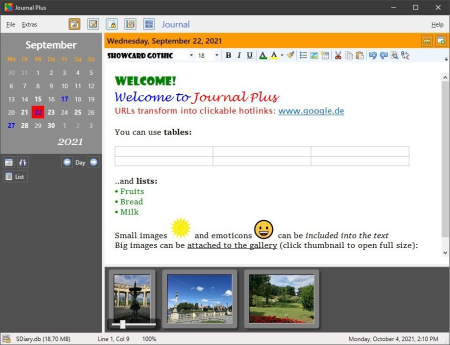 File Size: 5.7 MB
Journal Plus is a fully-featured, all-in-one journaling / diary / note taking program with a rich text editor.
It comes with several modules: Journal / Diary, Notebook, Logins / Passwords, Finance / Numbers, Contacts.
All documents are stored in a single, 256 bit AES-encrypted SQLite database file. Included image gallery: attach photos to your text documents. Local and global search functions. Simple and intuitive interface for unlimited documents. Generate strong passwords with the integrated password generator and log in to your web sites safely and easily. Organize numbers with the finance manager module and show them in the integrated graph/statistics bar. Undock documents in read-only popup windows.
Full-featured rich text editor with text formatting, hyperlinks, lists, emojis and images. Big images can be attached to each document in the photo gallery. Organize documents in the notebook module with folders and icons. In the journal module you can write diary entries for past and future days: just click a date at the integrated resizable calendar and start typing. You can search for entries with the global search function and find or replace words in a single document. You can also have several database files and switch between them easily. No save-button required, everything is saved in the background. Journal Plus will become an indispensable tool for your private life and your business day.
Features
The entire data is saved in one single SQLite database file with 256 bit encryption (the whole database gets encrypted and there is no way to unlock it without your password)
The Journal and Notebook modules have a full-featured rich text editor (RTF format)
Select Font, style and color, undo/redo, copy format
Insert images and emoticons (in-line images are not compressed in richtext files, so keep them small)
Image Gallery - for every document there can be an unlimited number of large JPEG or PNG images in a separate gallery (double-click to open full size, with Save-As function)
Search and replace
Global search function - find a word in any document and jump to it with one click
Insert tables and lists
Import text in RTF or TXT format (Journal, Notebook) or CSV (other modules)
Export single documents to RTF, Plain Text or HTML (Journal, Notebook) or CSV (other modules)
Organize documents with folders (Notebook, Logins, Finance) and assign icons to your documents in the Notebook
Password Manager to keep your login data save and in one place. Login to your websites with just a few clicks ("Copy on Click" option copies your login and password to the clipboard on right-click)
Password Generator with many options, for generating strong passwords
Included Contact Manager
Undock windows with a read-only version of the current document, to see multiple documents at the same
Store numbers of any kind for each calendar date with the Finance module (like the balance of your stocks or your income or expenses) and display them in the integrated graph module, with minimum, maximum and total value
Auto-save (every minute and on every document or module change): no save button required
Auto-backup on program start (up to 10 copies for the previous days)
Global Hotkey for showing and hiding the program window - so it is always available when you need it and out of the way if you don't
HomePage:
https://anonymz.com/https://www.programming.de/journalplus.php
DOWNLOADuploadgig.comrapidgator.netnitro.download